Submit your drawings online
My task is to help you uncover your true potential.
You can blow past your own self imposed limits
Lots of great advice in simple digestible chunks
Sample Drawing Critique
Date:  May 2020
Let's get started on the drawing. If we start with the body above the waist first. This part of the drawing works well, looks convincing and is in proportion. The outline looks a little less confident than previous drawings, but that is probably due to your break. All in all this part looks great.
The problem is with the body from waist down. First, the good bit. The model's right leg actually works very well. The position of this leg is difficult to draw and you have made it look very convincing. Well done.
The other leg doesn't work. I'm sure the concave curve should be convex and the lower leg seems to be twisted at an angle. It's down to subtle curves again, you have it working really well on the right leg but on the left leg it doesn't look convincing.
I wonder whether the model moved at all during the drawing? Despite the left leg, this is a pretty good drawing, you have make big improvements both in confidence and drawing ability since the first drawing I saw.
I think it is a good idea now to start drawing something other than a figure. Do you have something in mind? Do you like drawing landscape? Or perhaps have a go at some observational drawing e.g. Cut a red pepper in half and sketch that, possibly with coloured pencils.
Student Drawing
Submitted online
The student is a beginner and attending a drawing class in the USA. This was one of a number of life studies completed in the class and submitted online to me.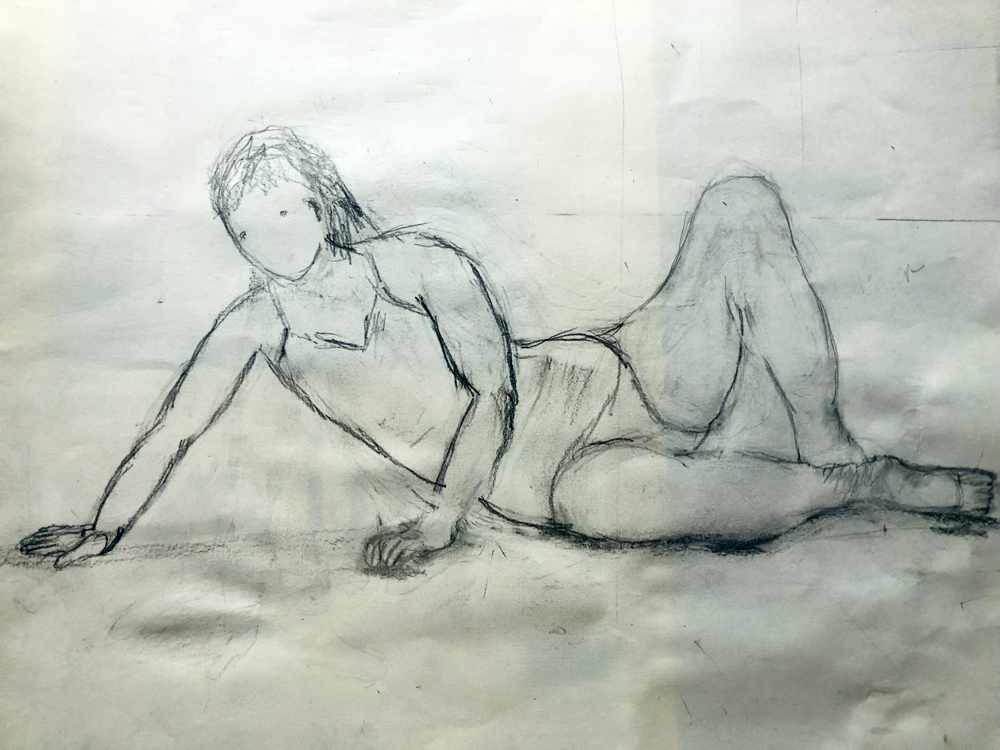 For just £7 or $9
You email one image of your own drawing or painting to me once a month. In return you will get a detailed emailed critique and suggestions of how you could improve and develop your work.
Please note: You will be signing up to my Patreon Channel for £7 ($9) a month. This subscription can be cancelled at anytime. Subscription is taken the day you sign up and then the 1st of each month after that until cancelled.